This post features the best French bulldog tattoo ideas.
If you're looking for a cute way to pay homage to your Frenchie pup, a French Bulldog tattoo is just what you need.
Frenchies are adored for their unique charm and sociable attitudes. This beloved breed was born in Paris, France in the mid-nineteenth century, originally created for bull-baiting with their stout, athletic figures. Since then, French Bulldogs have grown to be the best companion dogs with their patient, playful, and affectionate personalities.
Whether you're a Frenchie parent or just a lover of the breed, this French Bulldog tattoo trend will capture your heart. These ideas not only cater to diverse tattoo tastes and preferences, but embody the small but mighty spirit of the French Bulldog.
Here are 45 adorable French Bulldog tattoo ideas you're bound to be obsessed with.
1. Traditional French Bulldog Tattoo
Traditional tattoos are an old-school American style that use bold lines, deep primary colors, and classic designs. A traditional French Bulldog tattoo embodies the breed's vibrant personality and strong bond with its owner.
2. Minimalist French Bulldog Tattoo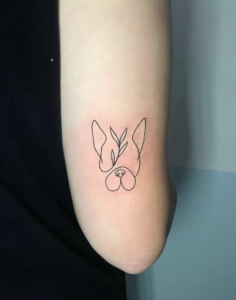 If you don't want your ink to draw too much attention, a minimalist French Bulldog tattoo is right up your alley. This tattoo idea will capture your love for Frenchies in a simple and modest way.
3. Triangle Frenchie Tattoo
This French Bulldog tattoo idea frames your Frenchie front and center with a thin-lined triangle. The contrast of realism and simple geometric lines is both eye-catching and subtle.
4. Geometric French Bulldog Tattoo
Geometric tattoos use clean and balanced shapes, appearing more sleek and modern. I love how this abstract look still captures the French Bulldog flair.
5. French Bulldog Tattoo Simple
A simple French Bulldog tattoo idea uses realism without going over the top. The realistic style truly brings your pup to life with ink, and the simplicity makes it versatile and easy to place.
6. Ornamental Frenchie Tattoo
An ornamental French Bulldog tattoo will express your adoration for Frenchies in the most striking and decorative way. These tattoos are usually larger in size and use bold, intricate patterns.
7. Mini Tattoo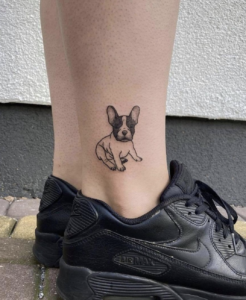 Mini French Bulldog tattoos are just too adorable to pass up. Try placing this tiny tattoo on your ankle or wrist. The pain level will also be much lower.
8. Finger Tattoo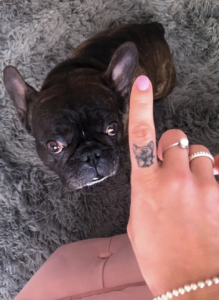 Finger tattoos are small and delicate, but you will always have a visual reminder of your French Bulldog baby at hand (literally!). The pose of this photo is so cute, especially seeing the brindle French Bulldog who was the inspiration!
9. Frenchie Within a Heart Tattoo
French Bulldog parents know how easily their pups can fill their hearts with warmth and joy. A heart French Bulldog tattoo is the sweetest way to showcase this unconditional love.
10. Aesthetic Floral Tattoo
Aesthetic floral tattoos never go out of style, so why not pair it with your French Bulldog design? Get creative with this tattoo idea by personalizing the flower type, size, and placement to fit your Frenchie.
11. Stamp Tattoo
This French Bulldog postage stamp tattoo is utterly unique and adorable. You can even customize this design by adding the date of your dog's Gotcha Day.
12. Angel French Bulldog Tattoo Idea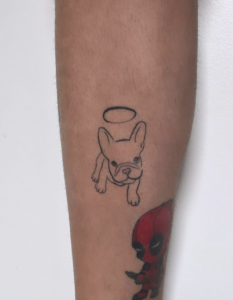 Saying goodbye to a beloved pet never gets easy. If your sweet Frenchie has passed on, this angel French Bulldog tattoo is the most heartwarming way to cherish your love and memories forever.
13. French Bulldog Ears Tattoo
French Bulldogs are known for their big, adorable ears that stand straight up. If you're looking for a small and minimalist tattoo idea that is still recognizable, this one's for you.
14. Doctor French Bulldog
A cuddle and lick from a French Bulldog can heal any wound. That means your Frenchie is basically a doctor, right?
15. King Frenchie
If your Frenchie thinks they are the king or queen of the household, this crowned French Bulldog tattoo is such a playful and charming idea.
16. Colorful and Illustrative
If you really want your French Bulldog tattoo to stand out, go for a colored design. The color will make your Frenchie look even more realistic and lively.
17. Flower Crown French Bulldog Outline Tattoo
This flower crown French Bulldog tattoo is oh-so cute. The design is definitely more delicate and whimsical.
18. Behind Ear Placement
If you're worried about the visibility of your ink, tuck it behind your ear. This is a sneaky and adorable little tribute to your French Bulldog that can be easily covered.
19. French Bulldog with Favorite Toy
Every dog has a favorite toy to chew and snuggle with. I love how this toy French Bulldog tattoo exudes playfulness and sweet innocence.
20. Sleepy French Bulldog Outline
Frenchie parents know this sleepy position all too well. Get a French Bulldog tattoo to show off what your pup does best…snore.
21. Watercolor Frenchie
A watercolor French Bulldog tattoo will add a playful splash of pastel to make your canine stand out.
22. Fancy Tattoo
Frenchies can be a bit high-maintenance at times, which makes this fancy French Bulldog tattoo design so funny and cute (and a little too accurate).
23. Classic Portrait
This French Bulldog portrait tattoo is perfect for proud dog parents. If you're constantly showing photos of your Frenchie to strangers and coworkers, this one's for you.
24. Fluid Lines
This tattoo style involves a singular line that creates illustrative, fluid shapes. The finish is soft and light, which looks so cute with a French Bulldog design.
25. Peeking Frenchie
The peeking French Bulldog tattoo design is so charming and adorable. It fully captures the Frenchie curiosity and quirkiness.
26. Twinkle Tattoo
This tattoo idea just dresses up the simple realism design with a little twinkle. It's a subtle touch that adds magic and whimsy.
27. Matching French Bulldog Halves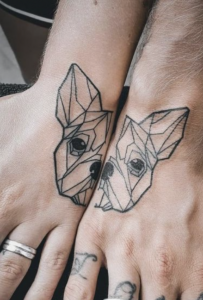 If you share your French Bulldog admiration with a loved one, this matching hand tattoo is the cutest way to stay connected. I love the idea of a Frenchie mom and dad getting this matching design together.
28. Sketch French Bulldog
The sketch tattoo aesthetic gives the impression that the piece is still being hand-drawn. This French Bulldog tattoo idea comes off more artsy and rough around the edges.
29. Cute Gentleman
French Bulldogs are known to be polite and even-tempered with other pooches and humans. There's no better way to illustrate the sweet attitude of a Frenchie than this gentleman tattoo design.
30. French Bulldog Eyes
This French Bulldog tattoo idea will melt the heart of anyone who takes a glance at it. Those warm, droopy eyes and snout wrinkles make for the sweetest tattoo.
31. Half Geometric Half Realistic
This idea brings two tattoo styles together for a unique and captivating design. The contrast between styles balances boldness with simplicity.
32. Skater French Bulldog Tattoo
This skateboarding French Bulldog tattoo is quirky and goofy, just like most Frenchie pups. It's also so small and simple, you can place it pretty much anywhere.
33. Purple and Blue
How stunning is the blue and purple watercolor design? The pastel shades blend together to create a gorgeous and eye-catching piece.
34. Best Friends Furever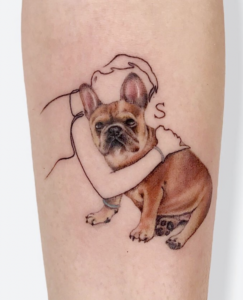 It's no secret that French Bulldogs are the best companion dogs. This super sweet design is an ode to your friendship with your Frenchie, and we love how you can tell it's a red fawn French Bulldog.
35. Star Wars
With this French Bulldog tattoo idea, you don't have to choose between your love for Star Wars and love for dogs. Why not both?
36. Little Heart Tattoo
This is such a simple and easy tattoo design packed with so much meaning. French Bulldogs have the biggest heart of any pup and this tattoo shows it.
37. Mermaid French Bulldog
There's something so unique and endearing about this tattoo of a French Bulldog with a mermaid tail. Definitely odd, but in the best way possible.
38. Ghost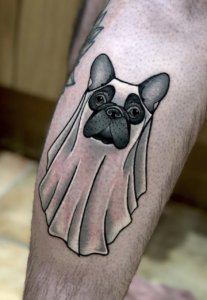 For Halloween and horror enthusiasts, here's a spooky twist to your French Bulldog tattoo! This design *screams* barks and boos.
39. Belly Rubs
This tattoo design of a French Bulldog rolling on his back to ask for belly rubs will seriously tug at your heart strings. It looks so cute placed on the back of your upper arm.
40. Wine Lover
This tattoo idea is simple, minimalist, and so lovable. Plus, it brings two of the best things in the world together: French Bulldogs and wine.
41. Fall Leaves
If flowers aren't your style, fall leaves are a lovely alternative to adorn your French Bulldog tattoo design. This idea is so pretty and oozing with fall coziness.
42. Butterfly
This another French Bulldog tattoo idea that is small and tasteful, but totally captures the sweet, playful, and curious nature of Frenchie pups.
43. Coffee French Bulldog Tattoo
I can't go a day without a cup of coffee and cuddle with my Frenchie. If this is you, try this adorable ink idea.
44. Big Stretch Simple Design
How charming is this tattoo of a Frenchie doing the famous big stretch? The lines are also clean and simplistic, perfect if you don't want your tattoo to be super visible.
45. Cute Cartoon
If realism isn't your style, this cartoon French Bulldog tattoo is such a distinctive and playful design.
From traditional to minimalist to abstract, there are countless ways to encapsulate your love for Frenchies in a tattoo design. Not only are Frenchies undeniably cute with their compact figures and charming wrinkles, but they make for the sweetest companions and life-long pals.
These 45 French Bulldog tattoo ideas are the most endearing way to show off your deep bond with the insanely lovable breed.